Detta evenemang har redan ägt rum.
Envisan – Studiebesök i Oskarshamn
2018-06-08 @ 09:00

-

12:00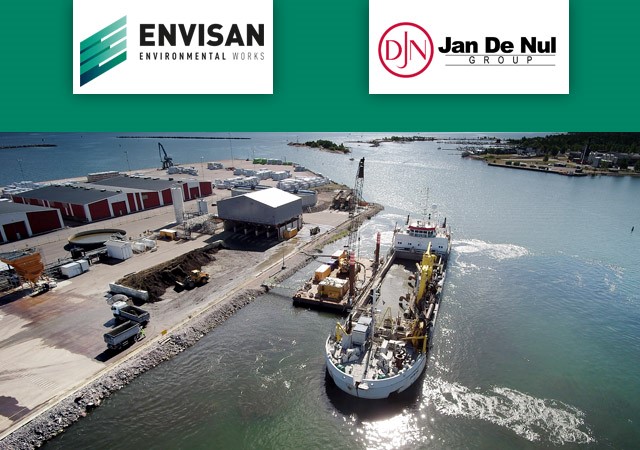 Invitation from Envisan to visit one of the largest harbour remediation projects in Sweden
Due to Oskarshamn's long industrial history the harbour became polluted with heavy metals and dioxines. For many decades, this contaminated environment was one of the main sources of pollution of the Baltic Sea. Taking their responsibility to improve the ecological quality of the Baltic Sea, Oskarshamn Kommun invited to a procurement for the remediation and contracted Envisan, the environmental subsidiary of Jan De Nul Group. A total of approximately 400,000 m3 of contaminated sediments are dredged and dewatered with chamber filter presses on-shore, after which the dewatered sediments are transported to a landfill. All water which is released during the dewatering process is treated prior to discharge to the harbour basin.
The dredging is now halfway and will be finished by the end of 2018.
We have the pleasure to invite you for a visit to the remediation project and to offer you an exclusive inside view into one of the largest remediation projects related to contaminated sediments in Sweden.
This visit will take place on the 8th of June.
Please register here to confirm your attendance.
Programme
09h00                                         Registration & coffee (Venue: Badholmen, Skeppsbron, 57233 Oskarshamn)
09h15                                         Welcoming and introduction
09h45                                         Guided visit to the water treatment and dewatering plant, landfill and dredging equipment area
11h30                                         End of guided visit & conclusion
12h00                                         Lunch
Contact:
Mr. Bart Van Renterghem (+46 72 207 16 58)
Mrs. Sofie Herman (+46 73 800 28 35)
Mr. Bert Crollet (+46 70 212 76 57)
E events@envisan.com